We offer outstanding fundraising opportunities.

1. Earn up to 50% commission of total sales.
2. Choose from our top fragrances.
3. Easy to use order forms for children, etc...
4. You will be offering quality, unique products already proven.
5. A set of samples will be provided for you to display as well as small selling samples.
6. We package each order (by child, by teacher, etc...) and deliver to you. Most delivery times are 3-4 weeks depending on volume. Exemption forms are required.

Now reserving spots for 2019.

EXAMPLE: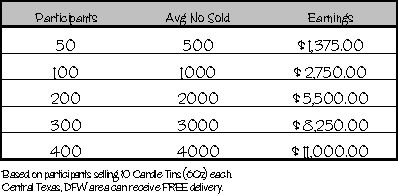 Email or call us (254-829-1383) for more information. Our free delivery is set up for Central Texas fundraisers. Our plans can be customized for your specific needs.