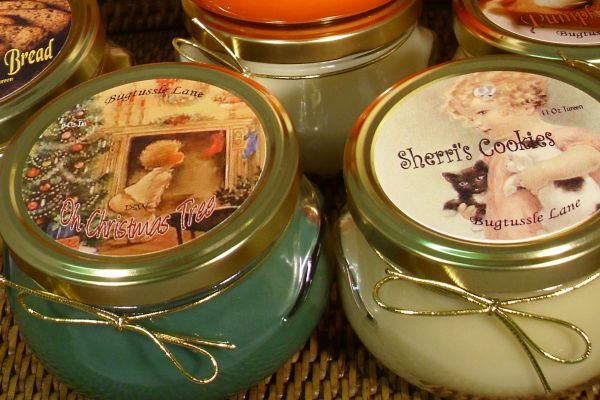 Fall & Christmas Fragrances
Amaretto Perfect for those cold days with loved ones. Rich & sweet, just like the liquor.

Banana Nut Bread Warm & nutty, just like granny's homemade. Warning! You may have to start your holiday baking.

Caramel Walnut Soft, gooey caramel with warm walnuts in every whiff!

Christmas Mulberry This fragrance will get you ready for Christmas. Fills the whole house with warm memories.
Country Harvest Throw a few logs on the fire, grab some apple cider and let the warm spices fill the autumn air.

Holiday Cabernet The rich bouquet of dark, red wine will add to your Holiday Celebrations.

First Snow You'll be walking in our winter wonderland with pine, cedar, berries on a mint background.

Holiday Eggnog Personal favorite! This rich, creamy holiday drink with just the right touch of rum & nutmeg.

Mahogany Spice A rich woodsy, earth scent with a tiny hint of autumn spices. New!
Oh Christmas Tree The wonderous look in a little boy's eyes as he looks up at the majestic, decorated tree. I honor my little boy with this fragrance.

Pumpkin Pie Who can resist the warm pumpkin & spices of this fresh baked holiday treat.

Roasting Chestnuts A winter tradition brought to life. "Chestnuts Roasting on an Open Fire."

Santa A fun, happy cinnamon to fill your house when the big man in red is ready to come down your chimney.

Sherri's Cookies Put the cookies out for Santa. Named for my beautiful daughter.
Southern Pecan Pie A Texas favorite. The warmth of brown sugar, vanilla, and giant pecans.

Spiced Cranberry A crisp, tart spicy cranberry perfect for all the Autumn/Winter holidays.

Vanilla Noel A perfect dupe of the BBW Noel. You will fall in love with it.

Warm Apple Cider Hands down the very best apple cider. This one will warm your kitchen and your heart!

Winter Candy Apple Juicy! Dark red apples coated with crystal clear sugar & a hint of cinnamon. BB&W favorite. Want a lick?

Year-Round Favorite Fragrances
Apple Allie Pie Just the right blend of warm apples, spices and butter crust; an American classic.

Beneath the Stars One of our all time favorites. This combo of Grape, Peach, Citrus, & Plum, on a Rose & Musk background is a joy to the senses. Great in palm!

Black Raspberry Lace Warmed by the summer sun, this raspberry blend has a touch of apple, jasmine and vanilla. BBW dupe.

Blackberry Butter Cobbler This one is also a keeper from our Fall FO Line. This berry cobbler is laced with butter and has an awesome hot throw.

Blueberry Muffin A mouth watering tart but sweet blueberry muffin.

Blue Ridge Perfect for the cool, crisp nights ahead. Almost masculine, but not. Hints of caramel, licorice, tonka bean, & cedar on a musk, amber background.
Buttercream Frosting Lick the frosting good! A blend of vanilla, butter and powdered sugar.

Buttermilk & Honey Perfect soft, feminine scent. Essence of buttermilk, amber, hint of musk, and a soft note of honey. A must to try.

Cara Carrot Cake The ultimate carrot cake complete with cream cheese frosting.

Carrie Berrie The perfect blend of strawberry and vanilla, little tart, very sweet.

Casey's Sunflowers A big, vibrant, yellow sunflower nodding in the summer breeze. Could autumn be in the air?

Cinnamon Buns Hot cinnamon pastry coming right out of the oven on a country morning.

Coconut Con Bon This is the ultimate coconut cream pie.

Cody's Rain The soft, clean rain falling on a Saturday morning. Relax, enjoy!

Cool Iced Tea This one takes you on a summer HIGH! It is fresh-brewed, very authentic.

Cotton Colt Very fresh, crisp scent filled with florals and green notes.
Creme Brulee' This one has been requested many times. Well, here you go. Vanilla & caramel at its BEST.

Gardenia There are few flowers as popular as the pure, white gardenia.

German Chocolate Sweet light chocolate cake with coconut and vanilla butter frosting.

Honey & Oak This is my new favorite. A L'Occitane dupe. A uniquely sexy scent with sweet honey & hints of oak tree bark. Unisex. You will adore it.

Karma (Lush type) My very favorite sexy, earthy Patchouli. You must try this one.

Lavender Lace Soothing lavender with just the right touch of soft vanilla.

Leather & Lace Leathery bouquet softened with a touch of vanilla. The cowboy and his lady!

Mediterranean This is our ocean fragrance; clean, crisp & salty. A blend of Galbanum, Bulgarian Rose and Bergamot.If you like Archipelago's version, you'll love ours.

Morning Morning has broken, dawn comes with the sweet smell of ozone, and sweet summer flowers. A personal favorite!
Oh Baby Smells just like baby powder. Favorite for personalizing candles for baby shower.

Peach Frost Can anything be better than a fresh peach picked at just the right moment? Juicy, juicy!

Pina Colada Clouds Pineapple, coconut and rum. This frosty blend is a real cooler.

Pineapple Cilantro Our #1 for 9 years. Sweet, juicy pineapple with just a hint of fresh green cilantro.

Pink Summer Sugar Cotton Candy, Vanilla and Caramel with a hint of fresh Bergamot and Citrus top notes.

Pink Storm Our Dupe for Circle E, Bird of Paradise. Lots of Sweet Pomegranate and Strawberry on a cream base. Soft and fresh.

Pink Vanilla Grapefruit Juicy pink grapefruit with a definite splash of vanilla. Very soothing.
Raspberry Patchouli Back to the 70's with a bold raspberry background.

Red Hot (Texas) Cinnamon at it's best, year-round favorite. Poured as Santa in Seasonal caqndles.

Rosemary Mint A comforting, fresh scent of peppermint, spearmint, rosemary, lavender & ylang.

Sherri's Cookies The best sugar cookie on the market. Named for my Precious Daughter. Poured as Seasonal Sept-Dec.

Stars Coffee This bold, yet smooth coffee scent is reminescent of our favorite coffee shop.

Strawberry Ice The perfect blend of sweet strawberries, sugar; icey & fantastic. Reminds me of a strawberry snowcone.

Sweet Peas The delicate sweet smells of this spring bloom soften our lives.

Texas Bluebonnets A sight to smell and behold, a field of bluebonnets gently waving in the breeze. The state flower of Texas.

Texas Sage Another Texas favorite. The incredible bitter/sweet smell of sage at full bloom.

Vanilla Bean The best vanilla we have found. A buttery vanilla with a touch of sweet caramel. (See Vanilla Noel.)(B&BW Dupe) Poured as Vanilla Noel Sept-Dec.

Victoria Secrets Choose from Amber Romance, Endless Love & Love Spell.

Warm Vanilla Pure vanilla, brown sugar and definite tones of sweet musk. (BBW dup)

Woods of Bugtussle Bugtussle has a magnificant wooded forest with oak, cedar, elm trees and wild flowers. Let's take a walk.